Investing in real estate is more than just a stream of income; it can become a spiritual journey that aligns with biblical principles. In our latest episode of The WealthBuilders Podcast, "The Spiritual Side of Real Estate," Karen Conrad Metcalfe welcomes pastors and real estate experts Mike Davis and Dan Dyer to the intersections of faith and realty. 
There is a deeper purpose for land and property ownership. If you would like to learn more, listen to the podcast here. 
Shownotes
Spiritual Foundations of Real Estate:
There are spiritual principles of real estate that emphasize the profound connection between land ownership and divine principles.
God's vision for believers is to flourish, renew their surroundings, and be agents of change.

Land ownership has a dual impact: Influencing spiritual climates and ushering in tangible blessings.

The blessing of Abraham had profound implications on commerce, land ownership, and community influence.
Dominion and Real Estate:
It's important to understand dominion's biblical origins and its reinstatement in New Testament teachings.

There are numerous testimonies highlighting the power of dominion in real estate—acquiring properties, facing challenges, and experiencing breakthroughs.

There are blessings that come with landownership, which has both tangible benefits and spiritual significance.
Real Estate as a Divine Stewardship:
There is a human yearning for blessings, miracles, and divine interventions.

Real estate has transformative capabilities beyond physical properties to spiritual homes and sanctuaries.

Real estate is not a mere investment, but a responsibility and tool for kingdom building.
Real estate can be a force for positive change, community upliftment, and regional prosperity.

Collaboration helps maximize the impact of real estate ventures.
There is a need to acquire properties with a divine vision, beyond personal gain, serving larger divine purposes and community benefits.
Embracing Real Estate Challenges with Faith:
There are inevitable challenges in the real estate journey and the power of faith to navigate them.

We can use spiritual strategies to overcome financial, bureaucratic, and societal obstacles.
Scripture References:
Matthew 24:43 (NIV) But understand this: If the owner of the house had known at what time of night the thief was coming, he would have kept watch and would not have let his house be broken into.

Proverbs 31:16 (NLT) She goes to inspect a field and buys it; with her earnings she plants a vineyard.

Ezekiel 36:35  (ESV) And they will say, 'This land that was desolate has become like the garden of Eden, and the waste and desolate and ruined cities are now fortified and inhabited.'

Isaiah 61:1 (KJV) The Spirit of the Lord God is upon me; because the Lord hath anointed me to preach good tidings unto the meek; he hath sent me to bind up the brokenhearted, to proclaim liberty to the captives, and the opening of the prison to them that are bound;

Proverbs 21:21-22 (TPT) The lovers of God who chase after righteousness will find all their dreams come true: an abundant life drenched with favor and a fountain that overflows with satisfaction. A warrior filled with wisdom ascends into the high place and releases breakthrough, bringing down the strongholds of the mighty.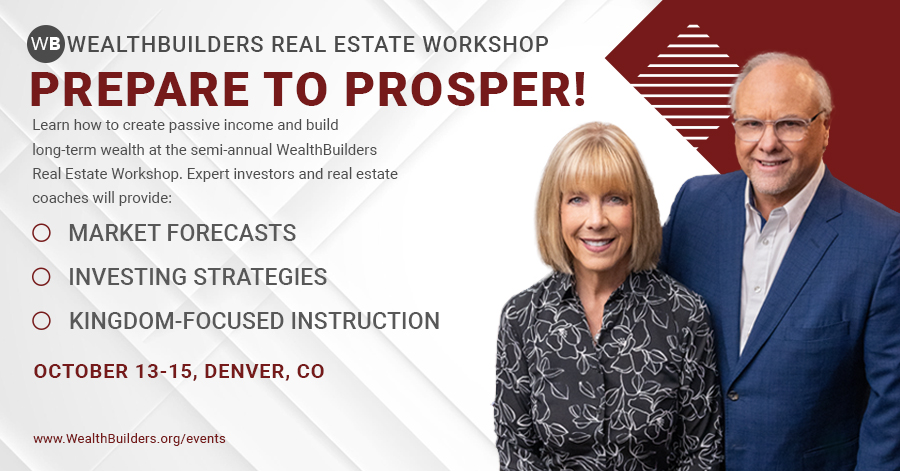 We all have a responsibility to use real estate to further the kingdom of God. The WealthBuilders Semiannual Real Estate Workshop from October 13-15 is a great opportunity to learn how.
When you use code WB200, you can purchase a livestream ticket for just $97, or you can get $200 off an in-person ticket and join us in Denver, Colorado for just $497. Click here to get your ticket.