We live in a broken world. All around us are tragedies of violence, poverty, and death. I truly believe that part of our purpose here on Earth is to help the underserved. Afterall, Jesus calls us to be the salt and the light (Matthew 5:13-16) of the world. In my teachings on WealthBuilding, I make sure to include philanthropy. The Third X in my Triple X theory states that we make money to give it away. I suggest living off 10% of your income and giving 90% away.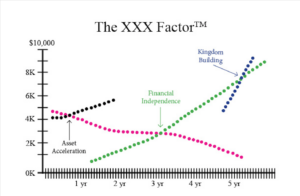 The purpose of our income in the Third X is to be for kingdom building. That is why I started Tricord Global. You don't have to start a non-profit organization to build the kingdom, however. Here are 4 Ways to Establish A Habit of Philanthropy.
1.) Tithe
The Bible tells us to give our first fruits to God (Lev. 27:30–34). After all, any money we receive in this life belongs to God. All we are doing is giving it back to Him in an act of faithfulness. This shows we are willing to build His kingdom, and that He is more important than our wealth. Churches in America usually take up an offering every week where you can give 10% of your paycheck. There is, of course, no official percentage for tithing. The Hebrew and Greek words for "tithe" both mean one-tenth, but give what you feel called to. This is important because it shows God first and foremost, this is for Him.
2.) Donate or Serve
There are countless organizations that could use your resources, whether that is time, money, or something else. Donating or serving is the quickest way to get involved, and you can choose the cause you donate to. If you have a heart for children in the trafficking/sex trade, then donate to organizations like Destiny Rescue or International Justice Mission. If you're physically active, join a walk or race like Race for the Cure or the Walk to Defeat ALS. If you want to help your community, put in weekly time volunteering at your local rescue mission or homeless shelter. You can also make donations to WealthBuilders, which helps run our office since we are a non-profit organization, and allows us to change the world with Tricord Global.
3.) Microfinance
As a loan program, microfinance goes a step beyond charity and empowers the receiver by giving them the opportunity to pay it back. The basic form is giving someone who has no chance at receiving a bank loan start-up cash for their business plan. And in developing nations where this can really change the environment, a start-up loan is something anyone can afford($20+). Check out Tricord Global or other organizations like Kiva.
4.) Impact Investing
Impact investing is going to be more complicated than the previous two. Global Impact Investing Network explains it as "investments made into companies, organizations, and funds with the intention to generate social and environmental impact alongside a financial return." Basically, it's philanthropy that connects to a self-sustaining business model. Investments for Tricord are open for a short period of time, so if you are ready to take this next step in philanthropic giving, click here.
---
I recognize investing in Tricord Global is not for everyone. This opportunity does require a significant monetary investment, so if you are not at that level, keep giving elsewhere! However, if you are ready to take your philanthropy to the next level, and get a 4-8% return on your investment (which is pretty rare), then contact my team today (contact@tricordglobal.com), or click here!
Which ways do you give?