Change is inevitable, but that doesn't make it easy. Have you ever faced a decision that had the power to change everything? Sometimes we're forced to deal with change because of circumstances outside our control. Other times, we actively choose to make changes in our lives. You can control your response whether you're dealing with forced or active change. If you struggle with change, this blog is for you. Here are three ways to respond to change in a healthy way:
1. Evaluate the Change
2. Embrace the Change
3. Take Action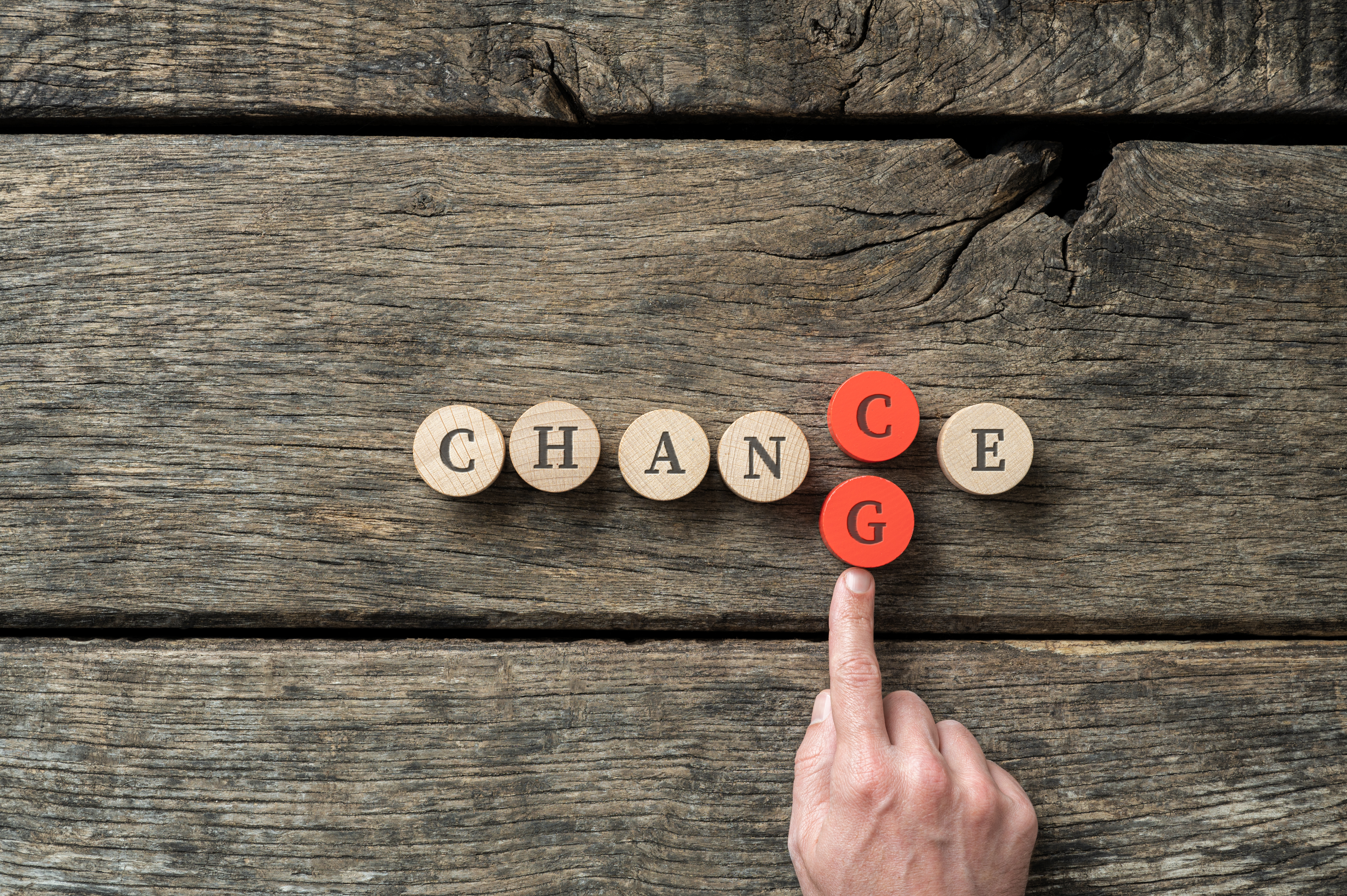 1. Evaluate
The first step to dealing with change well is to acknowledge it. Then, do your best to identify why. Let's say your job is about to change. If you're struggling on your current career path, that might feel like a forced change. Perhaps you're proactively pursuing something new.
The COVID-19 pandemic led to what Texas A&M University Professor Anthony Klotz calls "The Great Resignation." According to the Pew Research Center, people in America quit their jobs at record rates after the pandemic. The quit rates reached a post-pandemic high from April 2021 to March 2022. If you are experiencing a career change, these statistics can help you contextualize your situation and create a plan for a favorable outcome.
You can evaluate change with these questions: 
• Is this change just a result of living in an imperfect world?
• Am I in an age transition (mid-life crisis or empty-nest syndrome)?
• Is it a result of my personal choices and behavior?
• Is it a result of someone else's choices and behavior?
• Am I in a different age or era economically or socially?
• If things are changing around me, am I keeping up?
2. Embrace
Once you embrace change, it will begin to work in your favor. Now, I know this is easier said than done. Thankfully, we don't have to endure change alone. Jesus is the ultimate master of change. He offers us peace that passes all understanding when we focus on Him more than our circumstances. In Philippians 4:6-7, the Apostle Paul advises, "Do not be anxious about anything, but in every situation, by prayer and petition, with thanksgiving, present your requests to God. And the peace of God, which transcends all understanding, will guard your hearts and your minds in Christ Jesus."
If we're not careful, we can struggle with change and adopt a victim mentality. However, it's important to remember that God can always use change for your good. Romans 8:28 reminds us, "All things work together for good to them that love God, to them who are the called according to his purpose." Remembering this allows us to view change as a stepping stone to the next horizon God has for our life.
3. Take Action
You can actually decide if the change in your life will move you forward or keep you stuck. The key is to take action. The relationship between Moses and Joshua in the Bible is a great place to examine this principle. If you remember your Old Testament, Moses led an entire nation out of slavery with the goal of getting them to the Promised Land. When Moses dies at the end of Exodus, the Book of Joshua begins with a major change. Joshua is called to lead an entire nation to a new land. First, Joshua had to take possession of the land.
In Joshua 1:2-6, God gives Joshua some action steps to help him lead people into new territory. Here's what God told Joshua:
"Moses my servant is dead. Now then, you and all these people, get ready to cross the Jordan River into the land I am about to give to them—to the Israelites. I will give you every place where you set your foot, as I promised Moses. Your territory will extend from the desert to Lebanon, and from the great river, the Euphrates—all the Hittite country—to the Mediterranean Sea in the west. No one will be able to stand against you all the days of your life. As I was with Moses, so I will be with you; I will never leave you nor forsake you. Be strong and courageous, because you will lead these people to inherit the land I swore to their ancestors to give them."
Joshua and the Israelites had to deal with some drastic changes. Their leader died, and they had to move into a new place. However, Joshua didn't allow those circumstances to hold him back. He got into the presence of God and took action. Joshua's faithful response impacted countless people. 
Change is a constant, so it's about time you learn to master it. If you struggle with change, I wrote a book to help you make sense of the changes in your life. Click here for your copy of Change Mastery, or head to WealthBuilders University, where you can access our "Change Mastery" online course.