Check out the corresponding episode 'The Business Model Canvas Explained" to this blog on The WealthBuilders Podcast. You can also download your free business model canvas template here.
Are you an aspiring entrepreneur? Or perhaps you're already a businessowner who wants to revamp their organization. If so, the Business Model Canvas (BMC) is a necessary document to add to your toolbox.
Essentially, the Business Model Canvas is a one-page business plan. It's not a final product—you wouldn't hand a potential investor your business model canvas. However, I've found that it's pretty difficult to come up with a finalized business plan without completing the Business Model Canvas first. That's because it forces you to think about every area of your business, from your customer segments to your unique value propositions.
What is a business model?
A business model describes the rationale of how a business or organization creates, delivers, and captures value. This is key. Whether your goal is to create a new company or scale an existing business, the intention should be to create value for the customer.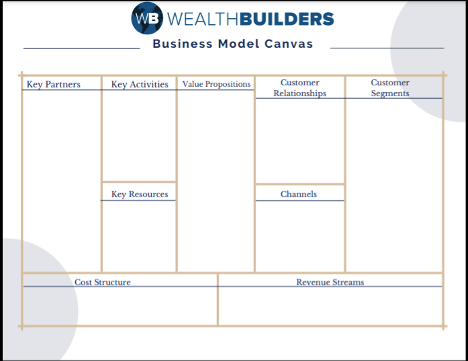 Download your Business Model Canvas Template Here
The Business Model Canvas Explained
The BMC is a tool that helps you generate a concise business plan and language for your business. It has nine distinct parts with two main portions that are located on the bottom of the canvas. There is a section for revenue streams (without revenue streams, you don't have a business!) On the opposite side, there is a section for your cost structure.
Each section of the canvas either contributes to the revenue side (right) or the cost side (left). Here's why that's important:
Revenue – costs = profits.
Profits, along with delivering value, are the goal of any business.
The Revenue Side of The BMC
Revenue Streams: What you get. Try to attach as many revenue streams as possible to the activities that consume your energy. For example, when I had a home staging business, I received revenue from the direct act of home staging. However, I also created a way to receive revenue from video teaching programs, books, and other related products.
Customer Segments: Who you help. Your customer segments aren't always who you think they are! For instance, if you're selling children's books, you might think that kids are the primary customer segment. However, kids aren't the ones with the purchasing power! Focus on the people who will purchase your product or service.
Customer Relationships: How you interact with your customer segments.
Channels: How your customer segments know you, and how you deliver value.
Value Proposition: How you help people. You will typically have unique value propositions for each customer segment.
The Cost Side of The BMC
Key Partnerships: Who helps us. No business is an island. Key partners are people you depend on to maximize your business potential.
Key Activities: What you do. In order to deliver a product or service, there will be key activities that you need to accomplish.
Key Resources: Who you are and what you have. Key resources are the products, skills, and knowledge you need to make good on your value proposition. For instance, key resources for a home staging business would entail furniture and décor. It would also require a truck to move items to and from properties.
Tip: There are additional components of a business that are helpful to consider in the early stages of the planning process. Consider the following as you brainstorm: operations, marketing, finances, legal, IT, and organizational management.
On the Value Proposition:
Starting with the value proposition section of the canvas can provide direction for filling out the remaining sections. Here are some questions to get your wheels turning:
What value do we deliver?
What problems do we solve?
What product or service is the vehicle of our value?
What am I offering the customer that is either different or better than my competition?
If you enjoyed the business model canvas explained, stick around for the next several weeks! We'll be taking a deep dive into each section of the canvas. By the end, you'll be able to fill out your own business model canvas template with confidence and ease.
If you want to learn more about how to start your own business, we created The WealthBuilders Business Development and Nonprofit Workshop just for you! You're invited to join us August 19-21 in Denver, Colorado. Click here to learn more.