Giving is the first step to understanding Kingdom finances. In other words, you must have a revelation of giving and receiving in order to build wealth God's way. Here's why: giving refines your character, and God isn't going to give you a blessing your character can't carry. In addition, the primary reason God gives us the power to get wealth is so that we can give to others. But don't take it from me—take it from God's Word. Because giving is so important to how we live as Christians, I have compiled an extensive list of Bible verses on giving.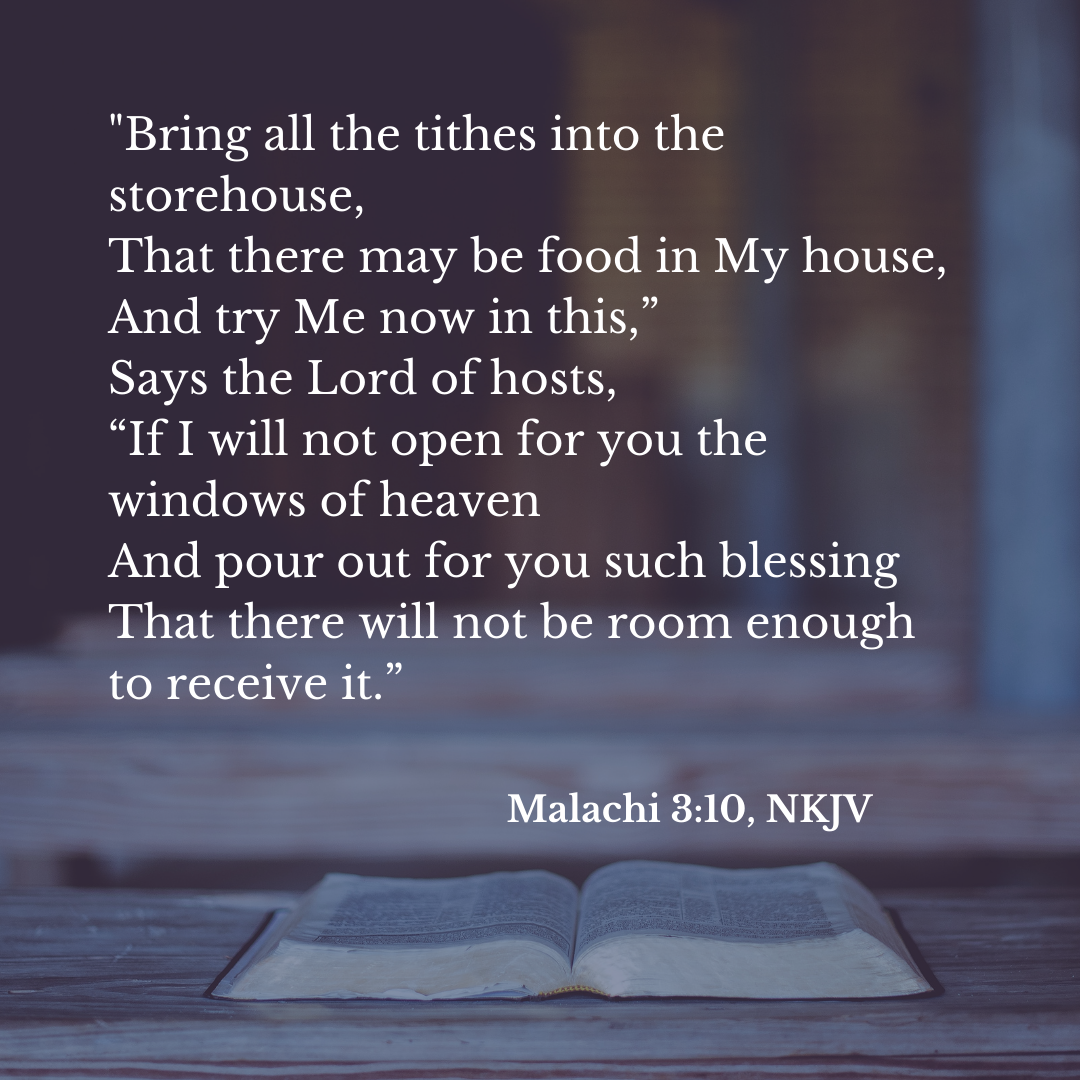 Bible Verses on Giving: First Fruits and Tithes
Genesis 14:17-20, NLT
"After Abram returned from his victory over Kedorlaomer and all his allies, the king of Sodom went out to meet him in the valley of Shaveh (that is, the King's valley.) And Melchizedek, the king of Salem and a priest of God Most High, brought Abram some bread and wine. Melchizedek blessed Abram with this blessing:
"Blessed be Abram by God Most High, Creator of heaven and earth. And blessed be God Most High, who has defeated your enemies for you."
And Abram gave Melchizedek a tenth of all the goods he recovered."
(Here's a bit of context: This is the first mention of the tithe in the Bible. Abram gave one tenth of his spoils of the war against Sodom to Melchizedek, the priest king of Salem. After his tithe, the king of Sodom told Abram that he could have all the war spoils if he returned their captured people. Abram's response is legendary, "I solemnly swear to the Lord, the God Most High, creator of heaven and earth, that I will not take so much as a single thread or sandal from what belongs to you. Otherwise you might say, "I am the one who made Abram rich." (22-23) Abram's rejection of the offer made by the King of Sodom powerfully affirms that he depends on God, not human authority, to make him "a great nation.")
Exodus 22:29-30, NKJV
"You shall not delay to offer the first of your ripe produce and your juices. The firstborn of your sons you shall give to Me. Likewise you shall do with your oxen and your sheep. It shall be with its mother seven days; on the eighth day you shall give it to Me."
Leviticus 27:30-33, NIV
"'A tithe of everything from the land, whether grain from the soil or fruit from the trees, belongs to the Lord; it is holy to the Lord. Whoever would redeem any of their tithe must add a fifth of the value to it. Every tithe of the herd and flock—every tenth animal that passes under the shepherd's rod—will be holy to the Lord. No one may pick out the good from the bad or make any substitution. If anyone does make a substitution, both the animal and its substitute become holy and cannot be redeemed.'"
Numbers 28:26, NASB
"Also on the day of the first fruits, when you present a new grain offering to the LORD in your Feast of Weeks, you shall have a holy assembly; you shall do no laborious work."
(Related: First Fruit Offerings: What they are, where they came from, and why you should give them)
Deuteronomy 16:9-11, NKJV
"You shall count seven weeks for yourself; begin to count the seven weeks from the time you begin to put the sickle to the grain. Then you shall keep the Feast of Weeks to the Lord your God with the tribute of a freewill offering from your hand, which you shall give as the Lord your God blesses you."
Malachi 3:7-10, NKJV
"Yet from the days of your fathers
You have gone away from My ordinances
And have not kept them.
Return to Me, and I will return to you,"
Says the Lord of hosts.
"But you said,
'In what way shall we return?'
"Will a man rob God?
Yet you have robbed Me!
But you say,
'In what way have we robbed You?'
In tithes and offerings.
You are cursed with a curse,
For you have robbed Me,
Even this whole nation.
Bring all the tithes into the storehouse,
That there may be food in My house,
And try Me now in this,"
Says the Lord of hosts,
"If I will not open for you the windows of heaven
And pour out for you such blessing
That there will not be room enough to receive it."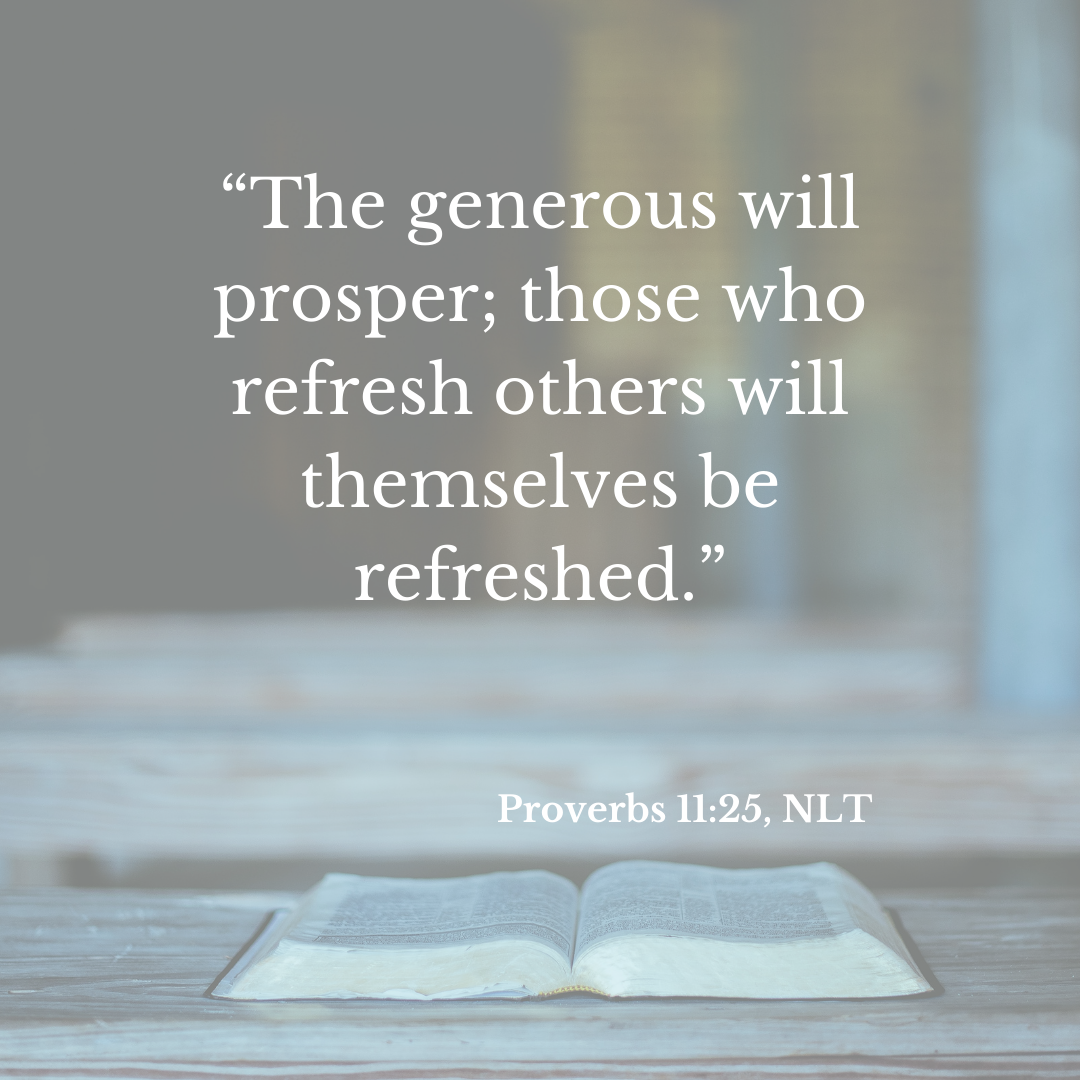 Bible Verses on Giving: Psalms and Proverbs
Psalm 24:1, NLT
"The earth is the LORD's, and everything in it. The world and all its people belong to him."
Psalm 37:21, NKJV
"The wicked borrows and does not repay,
But the righteous shows mercy and gives."
Proverbs 3:9-10, ESV
"Honor the Lord with your wealth
and with the firstfruits of all your produce;
then your barns will be filled with plenty,
and your vats will be bursting with wine."
Proverbs 11:25
"The generous will prosper; those who refresh others will themselves be refreshed." (NLT)
"The generous soul will be made rich,
And he who waters will also be watered himself." (NKJV)
Proverbs 19:17, NLT
"If you help the poor, you are lending to the Lord—and he will repay you!"
Proverbs 21:26, NLT
"Some people are always greedy for more, but the godly love to give."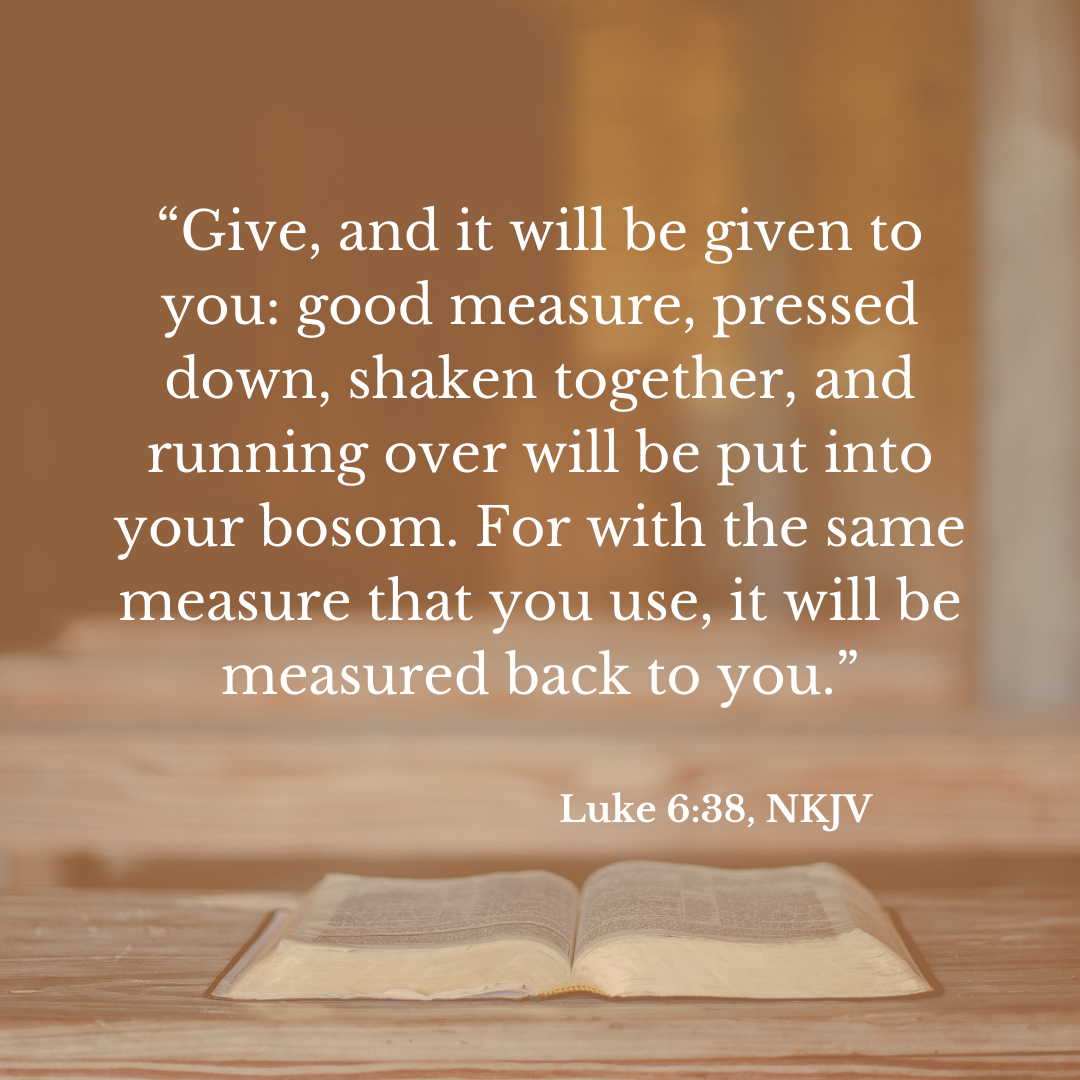 Bible Verses on Giving: New Testament
Matthew 6:2-4, NLT
"When you give to someone in need, don't do as the hypocrites do—blowing trumpets in the synagogues and streets to call attention to their acts of charity! I tell you the truth, they have received all the reward they will ever get. But when you give to someone in need, don't let your left hand know what your right hand is doing. Give your gifts in private, and your Father, who sees everything, will reward you."
Matthew 7:7-9, NLT
"Keep on asking, and you will receive what you ask for. Keep on seeking, and you will find. Keep on knocking, and the door will be opened to you. For everyone who asks, receives. Everyone who seeks, finds. And to everyone who knocks, the door will be opened."
Matthew 10:8, NLT
"Heal the sick, raise the dead, cure those with leprosy, and cast out demons. Give as freely as you have received!"
Matthew 19:21, NLT
"Jesus told him, 'If you want to be perfect, go and sell all your possessions and give the money to the poor, and you will have treasure in heaven. The come, follow me.'"
Luke 21:1-4, ESV
"Jesus looked up and saw the rich putting their gifts into the offering box, and he saw a poor widow put in two small copper coins. And he said, "Truly, I tell you, this poor widow has put in more than all of them. For they all contributed out of their abundance, but she out of her poverty put in all she had to live on."
Luke 6:30-31, NLT
"Give to anyone who asks; and when things are taken away from you don't try to get them back. Do to others as you would have them do to you."
Luke 6:38
NKJV
"Give, and it will be given to you: good measure, pressed down, shaken together, and running over will be put into your bosom. For with the same measure that you use, it will be measured back to you."
KJV
"Give, and it shall be given unto you; good measure, pressed down, and shaken together, and running over, shall men give into your bosom. For with the same measure that ye mete withal it shall be measured to you again."
(I like the KJV of this verse because it gives you a little hint about how we receive.)
1 Corinthians 13:3, NLT
"If I gave everything I have to the poor and even sacrificed my body, I could boast about it; but if I didn't love others, I would have gained nothing."
2 Corinthians 9:6-12, NLT
"Remember this–a farmer who only plants a few seeds will get a small crop. But the one who plants generously will get a generous crop. You must each decide in your heart how much to give. And don't give reluctantly or in response to pressure. For God loves a person who gives cheerfully. And God will generously provide all you need. Then you will always have everything you need and plenty leftover to share with others. As the Scriptures say,
"They share freely and give generously to the poor.
Their good deeds will be remembered forever."
"For God is the one who provides seed for the farmer and then bread to eat. In the same way, he will provide and increase your resources and then produce a great harvest of generosity in you.
Yes, you will be enriched in every way so that you can always be generous. And when we take your gifts to those who need them, they will thank God. So two good things result from the ministry of giving–the needs of the believers in Jerusalem will be met, and they will joyfully express their thanks to God."
1 Timothy 6:17-19, NKJV
"Command those who are rich in this present age not to be haughty, nor to trust in uncertain riches but in the living God, who gives us richly all things to enjoy. Let them do good, that they be rich in good works, ready to give, willing to share, storing up for themselves a good foundation for the time to come, that they may lay hold on eternal life."
At WealthBuilders, we want to empower a movement of Christians to understand and implement Kingdom finance. If that's you, Bible verses on giving will be an anchor along your financial journey. So, I hope these Bible verses on giving have been a blessing to you! Comment the verse that spoke to you below, and/or add one that isn't on the list.