Billy Epperhart's Secret Path to Wealth-Building is revealed in his trade marked "XXX FACTOR." The XXX FACTOR is a diagram of three interconnected X's that visually explains the path of how to start with no money and work your way to becoming debt free, then to financial independence, and then to true philanthropy. It enables you to see your progress of where you are on your journey to mastering money instead of money mastering you. The old saying, "that a picture paints a thousand words" applies to Billy Epperhart's trademarked XXX FACTOR. It is an indispensable tool that equips you in your quest for financial literacy and financial independence.
I SEARCHED FOR YEARS FOR AN EASY-TO-UNDERSTAND VISUAL PATH TO BUILDING WEALTH AND FINANCIAL INDEPENDENCE. But I had to it develop myself. It is revealed is this blog.
The diagram is a vertical axis that meets a horizontal axis at a 90 degree angle. On the vertical axis are 10 evenly spaced dashes. The dashes represent monthly income and monthly expenses of $1k to $10k. You can make the dashes represent any amount you desire as long as they reflect your personal income. The horizontal axis has 60 evenly spaced dashes each one representing one month of time.
To begin to utilize the XXX FACTOR as a tool, simply begin by drawing two dots at the one month location on the horizontal axis. One dot presents what your income is for the current month. The second dot represents your monthly expenses. The typical person has more in monthly expenses than they do in monthly income. This is true because of the use of credit cards and consumer debt. If this is true for you, please don't feel guilty. Most people are taught how to be consumers. The word "consume" means to destroy. What are we destroying when we consume? We are destroying our ability to build wealth.
Begin to graph your income and expenses for each month. If your expenses are more than your income, then by applying the proper money management principles that we will teach you, your expenses will begin to come down. As they do, they will cross your income line and the first "X" will form. Some people are able to increase their income line fairly quickly and this will help the first "X" to form more rapidly as well.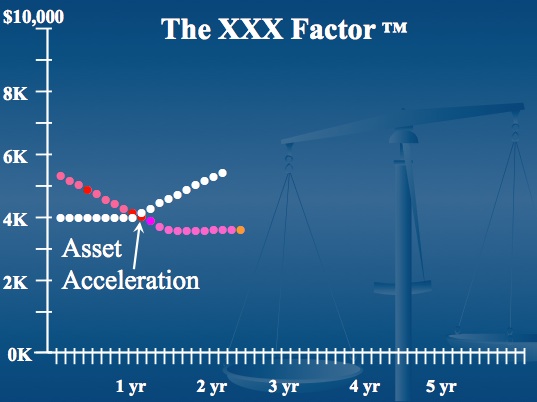 If you have your debt and monthly expenses well in hand, then you can move to the second "X." Please watch the attached video to help you with this explanation. In the next blog on the XXX FACTOR, we will address the second "X."