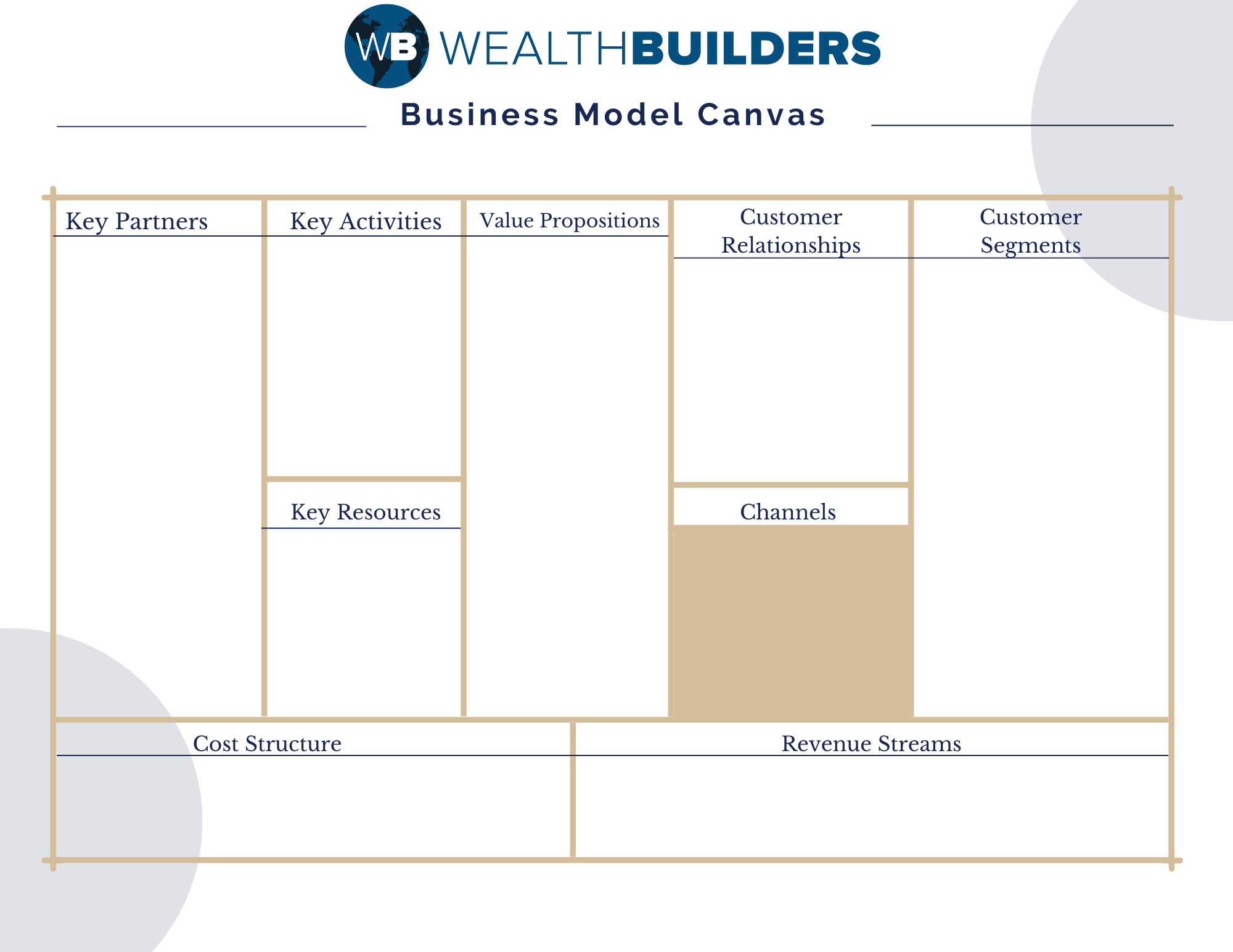 Channels 
Channels are the means by which you deliver your product or service. They are the key touchpoints where you engage with your customers. Consider the places your customer segments frequent and where they engage in commerce. Ensure that you have a presence in those spaces, as well as a means of reaching them.
Here's an example. My dad is 90 years old. He doesn't order from Amazon. When he needs something, he goes to the store. That's the lifestyle that his demographic has grown accustomed to. Conversely, my son Levi is 28, and the majority of what he buys is online!
Entrepreneurs who know where the channels where their customers like to shop will see more increase. Part of what makes Amazon so successful is how they've managed the channel of online ordering and delivering.
How do our customer segments want to be reached?
How do we reach people; meaning, how do we get the right message out to the right people?
Do your channels allow for the easiest possible buying opportunity?
If you stay in your business for a while, you'll have to adapt your customer segments over time. For example, Andrew Wommack Ministries used to only broadcast through television. As technology advanced and their audience grew, they pivoted to reach people on the internet. Programs such as Gospel Truth TV and live Bible studies were formed, and a social media department was added to the ministry.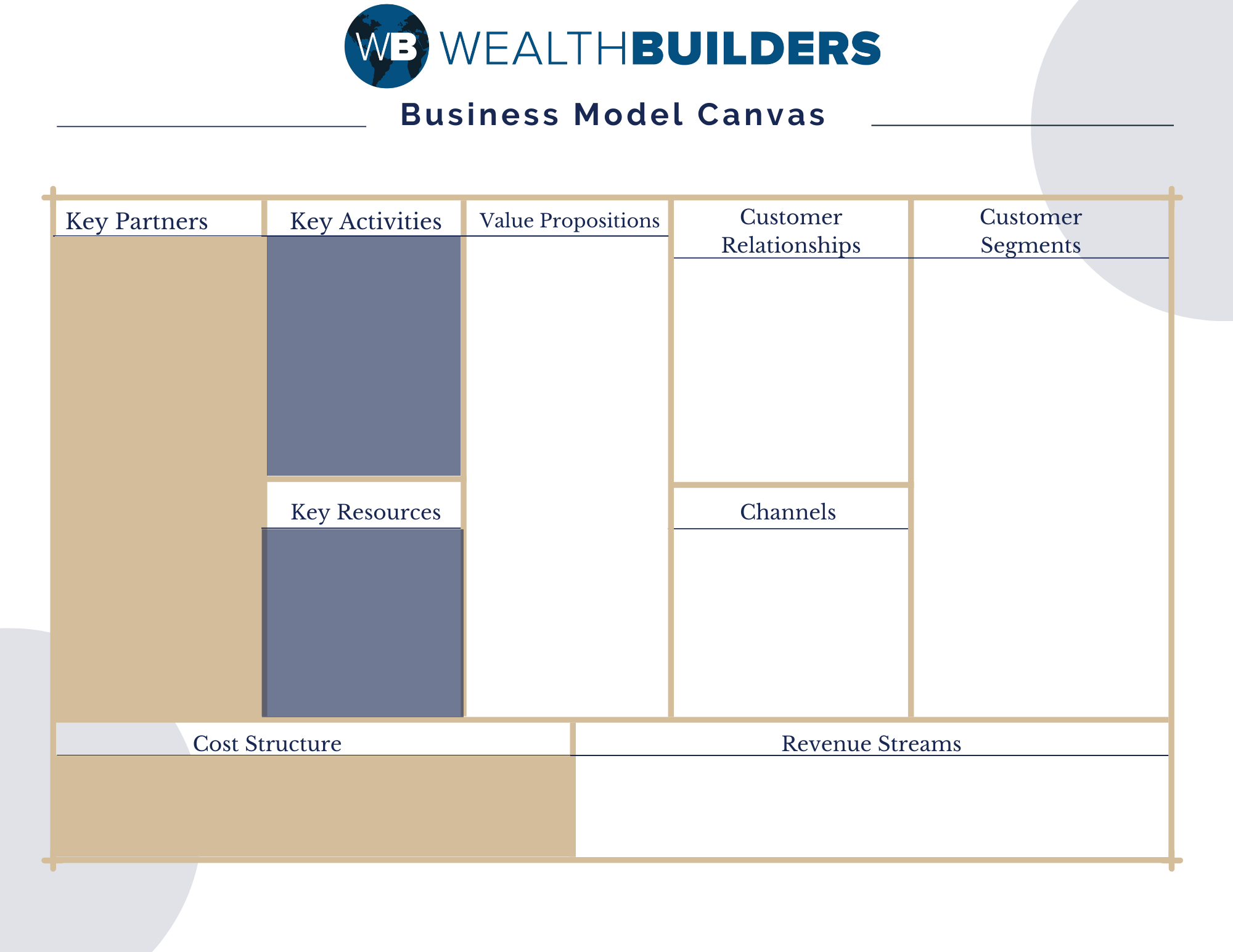 Follow along with the blog and download your free Business Model Canvas template here.
The Cost Side of the BMC
Up until this point, our series on The Business Model Canvas has covered the revenue side of the canvas—the portions of your business that bring you money. This section will cover the cost side—the portions that cost money. As they say, it takes money to make money, and this information will help you ensure that you're spending it wisely.
The cost sections are:
Key Resources
The things you must use to make the logistics of your business work. They can be physical, financial, software, people, etc.
Key Activities:
The things you must do to fulfill your value proposition. Every business does several activities on any given day. When you evaluate your key activities, it makes it easier to craft job descriptions as well. Consider the types of activities your business must do in order to function. Production, financial management, software, employment management, and delivery are a few categories that only begin scratch the surface of the areas where your business is engaged.
Key Partners
The relationships you have with other businesses or organizational entities that help your business model function.
Before deciding whether or not someone is or should become a key partner, ask yourself: 
Who are my current suppliers, and can they become strong partners?
Are they important enough to be an integral part of my business?
Can my team deliver value to my customer segments without this supplier?
 On another note, if businesses rely on a certain supplier and have the capital to do so, they'll often acquire that supplier by buying them out. This saves them money in the long run, and it allows them to create another revenue stream. Or, you can create a side-business to fulfill the demands that current partners are responsible for.
Cost Structure:
This section of the canvas is extremely important because it aims to answer this million dollar question: what does it really cost you to run your business? I like to be really conservative when I fill out the cost structure section of The Business Model Canvas. For instance, when we budget out a fix and flip, we often tack an additional 10% for repair costs. This ensures that the formula we invest with is profitable even if we spend 10% more than we initially thought.
 Ask yourself the following questions when you fill out this side of The Business Model Canvas:
What are my most important costs?
Which cost cannot be managed? (i.e., real estate taxes)
What resources and activities can we cost control? (i.e., advertising and subscriptions)
Is there anywhere I can cut costs by switching to a different supplier?
 I hope you've enjoyed this series on The Business Model Canvas! If you want to learn more about how to start your own business, we created The WealthBuilders Business Development and Nonprofit Workshop just for you! You're invited to join us August 19-21 in Denver, Colorado. Click here to learn more.