When an ambitious entrepreneur starts a business venture, they are typically filled with a mission and a sense of purpose. I find that this is especially true for Kingdom-minded business people or people whose businesses focus on social impact. However, over time most businesses experience some form of mission drift. Their raison d'tere (reason for being) becomes skewed. Business management is essential to get back on track.
Businesses must continually remind themselves of their purpose. This helps them identify key activities and support the value proposition. Innovation can be a life raft for businesses that are experiencing mission drift. The key to innovation is connection. Innovation
1.Connects the company's work back to its original brand and mission
and
2. Connects the company's work to serve their target audience's needs.
As time goes on, the people's needs and the nature of those needs change. That's why business owners have to be service-minded, in touch with their customers, and ready to adapt.
Work Packages
In order to innovate, leaders and managers need to take a closer look at the work that is being done in their organization. One way to do this kind of business management is to identify the work packages. These are simply all of the activities that are taking place that allow your organization to function. If you are a small business owner, list all of the primary jobs that you are doing right now in your business. Even if you have a few employees, the responsibility for most of the major tasks probably falls on you.
Examples of key activities that can fit nicely into groups are accounting, marketing, legal, human resources, sales, customer service, etc. It really depends on your industry! I spent many years in ministry. So, I know that business and leadership principles typically transfer into the church realm as well. If you are a pastor, some of your key activities may be preaching, worship, outreach, prayer ministry, and youth.
Once you have listed every job you can think of, arrange them into logical work packages. For instance, work relating to finances will go into one package, and marketing endeavors will go into another. It's important to note that these boxes represent functions, not people. There will always be someone in charge of the work, but it won't always be the same person.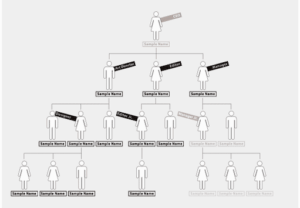 Here is an example of what a finished chart with work packages would look like for a small company. The CEO is at the top. After that, there are art, editorial, and management duties that need to be fulfilled. Every job fits under one of those umbrellas. After the work that needs to be done is identified, the delegation process can occur. After all, you can't give someone a job that doesn't exist!
You may say to yourself, "That's great, Billy, but I thought you were going to talk about innovation!" Well, writing things down puts them in perspective. You will not be able to innovate well if you don't know what you're working with in the first place.
Create this chart and you will see the holes in your business structure better. Organizational charts paint a clear picture of how everyone in the business system is related. They illustrate what jobs interact with one another. And, perhaps most importantly of all, demonstrate how to position employees in such a way that realigns the business with the mission.
Interested in learning more about business management? 
My Organizational Mastery Workbook is designed to help you walk through these principles step by step. Our online educational platform, WealthBuilders University, also has dozens of lessons on entrepreneurship, business planning, and management. Click here to check it out!