"Of the tribe of Issachar, men who understood the times, with knowledge of what Israel should do, two hundred chiefs; and all their relatives were at their command." (1 Chronicles 12:32)
In America, we are in unique economic times. One of the primary contributing factors are the aftershocks the economy is experiencing from the largest infusion of federal money into the United States in recorded history. During the Covid-19 pandemic, roughly $5 trillion dollars went to individuals and families, small businesses, local governments, healthcare, and other areas. (That's roughly a quarter of the size of the entire U.S. economy in just over a year.)
That's not all. Up until January of 2o22, interest rates were the lowest they had ever been in the United States. The Fed was loaning money to banks for 0% interest! So, we had this big pot of money and a cheap way to get even more. 
But what does all of that mean for you?
Well, you've probably noticed that prices have risen, from real estate to groceries. At 9.1%, the inflation rate is at a 40-year+ high. If you feel your finances getting tighter, I encourage you not to despair. Remember: The Holy Spirit will not only show us how to discern the times, but what we should do.
The truth is that we are on the cusp of two big financial opportunities. The first is the greatest wealth transfer of all time, and the second is a potential recession. I know the latter sounds negative, but if you position yourself correctly, recessions pose unique financial opportunities. In this blog post, we will dive into those opportunities and unpack 3 ways to prosper in an uncertain economy.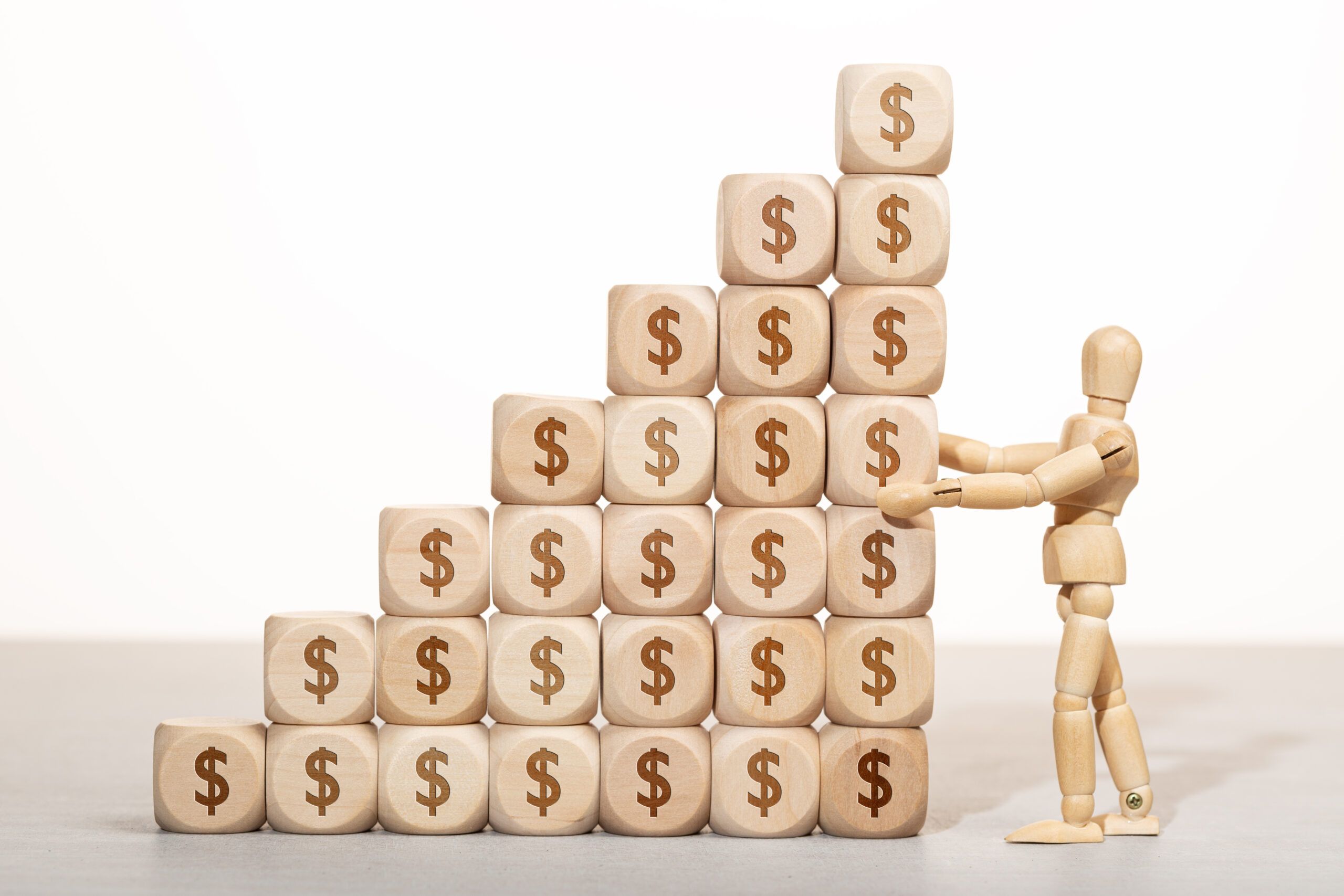 The Greatest Wealth Transfer of All Time
History has proven that economic times such as these have hallmarked the most significant wealth transfers. In addition, experts suggest that the greatest wealth transfer in history will occur in the next 30 years thanks to the Baby Boomers. More than 30 trillion dollars will be transferred from Boomers to younger generations in the next 25 years. 
So, this presents an opportunity for everyone, not just the people who will inherit the money. The fact is that people who inherit money typically don't know how to steward it. In truth, 70 percent of families who inherited their wealth lose it by the second generation, with 90 percent losing it in the subsequent generation. It takes intelligence to make money, and even more to keep it.
 As the wealth transfer occurs, spending will increase. There will be opportunities for entrepreneurs and investors. So, how can we prepare? A lesson from the book of Genesis that involves Abraham's son, Isaac, can teach us a few things.
"There was a famine in the land, besides the first famine that was in the days of Abraham. And Isaac went to Abimelech king of the Philistines, in Gerar.
Then the Lord appeared to him and said: "Do not go down to Egypt; live in the land of which I shall tell you.
Then Isaac sowed in that land, and reaped in the same year a hundredfold; and the Lord blessed him. The man began to prosper, and continued prospering until he became very prosperous; for he had possessions of flocks and possessions of herds and a great number of servants. So the Philistines envied him." (Genesis 26:1-2 & 12-14)
3 Tips for How to Prosper in an Uncertain Economy
1. Be Obedient to the Voice of the Holy Spirit
Isaac listened to the voice of the Lord and obediently went where He told him to go. That land proved to be fruitful, as Isaac reaped 100x what he sowed! Wouldn't you like to see that kind of return on investment? If you slow down, listen, and act in obedience, God will give you direction. Isaiah 48:17 says: 
"Thus says the Lord, your Redeemer,
The Holy One of Israel:
"I am the Lord your God,
Who teaches you to profit,
Who leads you by the way you should go."
Prayerfully discern where God wants you to be in this season of life. When you have a sense of the direction, do not hesitate to move. Your obedience will be rewarded. Remember that God has divine connections and Kairos moments for your life that you haven't ever thought about.
2. Prepare During Times of Famine
 It is not a coincidence that Isaac prospered during/after a time of famine. On the one hand, I believe that God loves to prosper His people in unexpected circumstances. It reveals His goodness and glory! In addition, Isaac stewarded his God-given resources by sowing during a time of economic hardship. While others let despair determine their actions, Isaac was led by hopeful confidence in God's provision. 
To know how to prosper in an uncertain economy, we need to be as wise as serpents and as innocent as doves. Nearly 70% of the economists in a new survey conducted by the Financial Times and the Initiative on Global Markets believe that there will be a recession at some point in 2023.
If you don't have one already, start saving for an emergency fund. Three to six months will give you a nice cushion so that you can sustain unexpected costs and continue building your investment portfolio. Emergency funds are not just for beginners. They are necessary for any investor who wants to keep playing the game.
3. Invest with Patience
Be prepared for a long-term investment strategy. If the economy takes a dip, you'll be able to ride out the lows. Here are some strategies to equip you for the long haul:
Invest in hard assets like consumer staple stocks, oil stocks, commodity ETFs, gold, and precious metals. The key is to invest in commodities and goods that people need regardless of what the economy does. For example—people need to get places, so they need gas. People need to eat, so they'll buy wheat related products. People need a place to live, so they'll buy real estate.

Stay relatively liquid. Then you will be in a position to make moves when asset prices begin to dip…and history shows us that they will.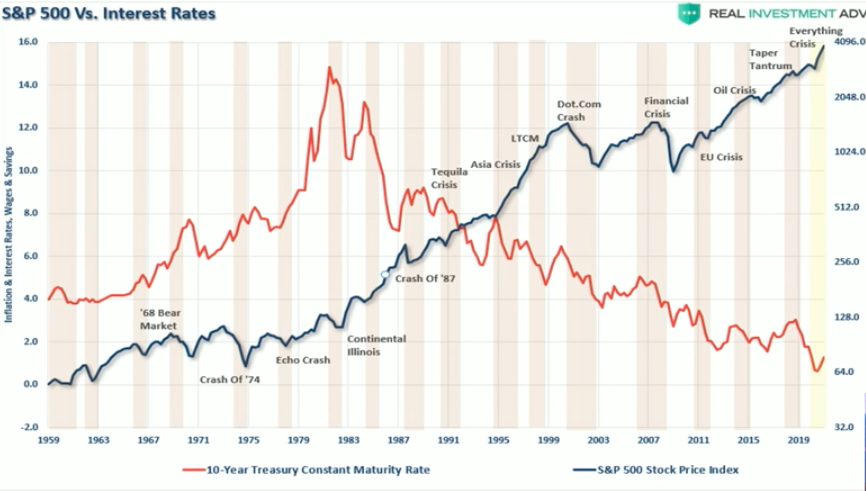 The chart above shows the S+P 500 versus Interest Rates. As you can see, the lower the interest rates go, the more expensive assets will become. At some point, the economy will balance out at create another X like the one in the chart. Interest rates are rising, and when a recession hits, less people will be able to afford assets. As the law of supply and demand shows us, this will drive prices down. Then, the investors with liquid capital will be able to purchase investments when they're low and see significant gains when the economy regains its composure. 
Wait just a little longer to scoop up those real estate properties. As a whole, the median price of a home increased by 17 percent in 2021. This was largely due to the surge in the money supply and decrease in interest rates that we just talked about. As a wise man once said, "what comes up must come down.
To combat inflation, the Federal Reserve is increasing interest rates. According to Freddie Mac's records, the average 30-year rate jumped from 3.76% to 5.81% between March 3 and June 23 — an increase of over 200 basis points (2.00%) in just three months. As those rates rise, so does the monthly cost of homeownership. People are beginning to get priced out of the market. In the next 12-18 months it will be a great time to buy.
We can have hope and perseverance in an uncertain economy. Position yourself to prosper, and you will reap the rewards at the right time.
WealthBuilders is not a registered investment advisor. Neither WealthBuilders nor any of its representatives are authorized to provide investment advice on behalf of Authentic Counsel, LLC or to act for or bind on their behalf. WealthBuilders does not receive, control, access or monitor client funds, accounts, or portfolios. WealthBuilders does not warrant any services of Authentic Counsel, LLC and makes no claim or promise of any result or success of retaining Authentic Counsel, LLC. Your use of Authentic Counsel, LLC is at your sole discretion and risk. WealthBuilders and its affiliates are not responsible for the accuracy or reliability of any information contained on third-party websites. The content is developed from sources believed to be providing accurate information. The information in this material is not intended as tax or legal advice. Please consult legal or tax professionals for specific information regarding your individual situation. The opinions expressed and material provided are for general information, and should not be considered a solicitation for the purchase or sale of any security. Please consider your risk tolerance before investing. Past performance not a guarantee of future results.