The content in this blog post comes from Karen Conrad on episode 64 of The WealthBuilders Podcast, 'How to Start Real Estate Investing: 9 People You Need on Your Team.'
One of the biggest challenges people face when they begin to learn how to start real estate investing is making critical connections. There are team members that you need to have. This is especially true when you choose to invest in markets outside of where you live. If that's your situation, you'll need property managers and connections with people who are knowledgeable about those areas. So, in this blog post, you will learn 9 people you need on your real estate team.
1. Real Estate Agent
A real estate agent will help you scout out the best investment deals, as well as help you sell you properties when needed. Not all real estate agents are alike! It's important to connect with an agent who is familiar with investment properties. The best way to gauge this is to choose someone who invests in properties themselves. Ask people for referred agents.
2. Property Manager
A property manager is extremely helpful when you own properties that are a significant distance away. Some of their potential responsibilities include collecting rent, fulfilling maintenance requests, managing inspections, and responding to immediate tenant needs. If you can, find a property manager who owns investment properties themselves. Next, ask them how they can connect you with repair people (their connections should result in discounted services.)
3. Home Inspector
When you are learning how to start real estate investing, you may be curious about risk. A big way to mitigate potential losses is to hire a good home inspector. They help ensure that you don't encounter any expensive surprises after you purchase a property. Home inspectors evaluate prospective properties for any dangerous red flags or things that aren't up to code in the home. In addition to the regular inspection, make sure they look at the roof and foundation. We also encourage you to do a sewer scope inspection as well.
4. Bank Financing / Mortgage Broker
The entire real estate investing process hinges on financing. As you grow your real estate investing business, there will come a point where conventional financing won't work for you anymore. Build a relationship with local banks—they'll come in handy when there is a dip in the market, or you need financing that is flexible beyond Fannie and Freddie loans. A banker will work with you and provide you with open doors that conventional loans can't.
[Read Next: 8 Essential Real Estate Financing Tips]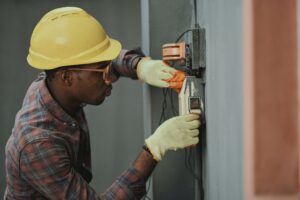 5. Contractors
A connection with a good general contractor is invaluable. They can connect you with electricians, plumbers, and handymen should you need them. Get verified evidence of their work and ask for referrals from people you trust. Once you find someone, ask for a bid for the job beforehand. If possible, pay per job, not per hour. If contractors aren't willing to do that, work with them to negotiate a cap on the project. Lastly, do not provide payment until the job is completed.
6. Insurance Agent
Again, you want to find an insurance agent who is familiar with investment properties. Talk to brokers who can give you options with several companies. Shop around and find good coverage for a good cost.
7. Accountant
Accounting is CRUCIAL for understanding how to account for your expenses. There are several nuances, such as, for example, spending money on a roof. Is it a repair or capital expenditure? The answer matters because capital expenditures allow you to have more depreciation as you move forward. There are several instances such as this that your accountant should be aware of.
Find an accountant who knows real estate and will work with your attorney to set up your entities. Make sure they are familiar with tax strategies such as 1031 exchanges and are up to date on the latest laws.
8. Real Estate Lawyer
Your attorney will help you legally manage your properties in a way that makes sense for your needs. They will help you set up an LLC (or S-Corp.) We love working with Bill Bronchick, a real estate lawyer who is part of the WealthBuilders Real Estate Coaching program. (Coaching clients get free access to his personal advice and learning materials.) Hopefully you'll never encounter this situation, but a real estate lawyer will help you in the event of necessary evictions as well.
9. Home Stager
Home stagers help you prepare a home for sale by making it visually appealing and designing it in such a way where potential buyers can picture themselves in the home.
A home stager can help you yield 10-15% more on the sale of your property! It is proven that people will pay more for a home that is staged versus one that is not.
We hope that this blog post has taught you more about how to start real estate investing with a top-notch team. If you are interested in exploring this material in greater depth, check out the corresponding episode of The WealthBuilders Podcast.
If you want to go even deeper, register for the WealthBuilders Real Estate Workshop Livestream, April 22-24th. The registration cost is just $299. You'll have access to the material for 3 weeks, as well as live Q&As. Click here to learn more.