Martin Luther King Jr is a man who challenged the way we think and changed America for the better. He had an obvious impact on society, and his words are full of wisdom that we can continually learn from if we take the time.
Because this month is all about making a Kingdom impact through social impact investing, I thought it would be a good idea to dig into some of Martin Luther King Jr's words about this topic.
Here are some important quotes. Chew on these words and let them impact your thinking this week. Also, I encourage you to share your favorite MLK quote on social media this week. I've provided some images for easy sharing throughout the post!
Social Impact Through the Eyes of Martin Luther King Jr
"Our lives begin to end the day we become silent about things that matter."
Our silence and our willingness to disregard the news take a heavy toll. Our ability to shrug off important social matters prevent us from being tangible forces of light and hope in the world.
I encourage you to speak up about the things that matter to you. This can be through volunteered time, signing petitions for the matters that are important to you, or donating/investing in causes you care about.
Whatever it is, speak up.
One amazing way to take a stand is to invest with Tricord Global. We give people a voice by using their investments for business training and development in third world countries. Click HERE for more information.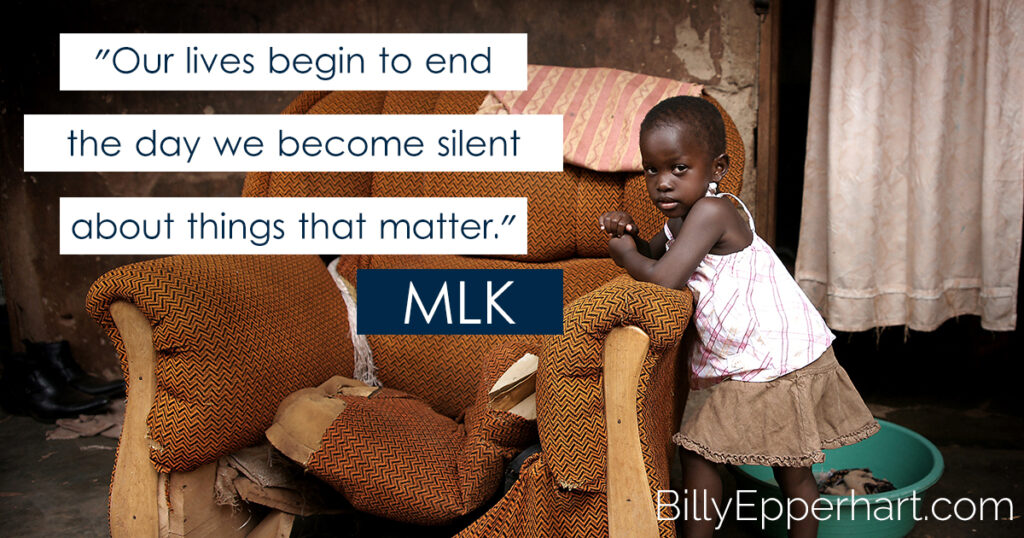 "We must accept finite disappointment, but never lose infinite hope."
Allowing yourself to be invested in Kingdom impact causes is going to mean a future of finite disappointments. The world doesn't change overnight – a single household can't even do that.
But even though we will become overwhelmed by the little disappointments along the way does not mean we should quit & throw in the towel! We must keep an infinite hope.
This is much simpler with a Kingdom perspective. The Lord is making all things new, and He does have a plan for the future of all countries and all peoples.
"Darkness cannot drive out darkness; only light can do that. Hate cannot drive out hate; only love can do that."
In order to break through all of the tragedy in our world, we have to combat it with light and love. Kindness changes hearts for the better. Force only provides a temporary reprieve. To truly invest in social impact, we need to start by investing in our attitude and daily walk.
If you're not walking around with a positive attitude, start investing in yourself before you invest elsewhere. Changing your attitude and living with hope is essential when you desire to make an eternal difference in someone's life.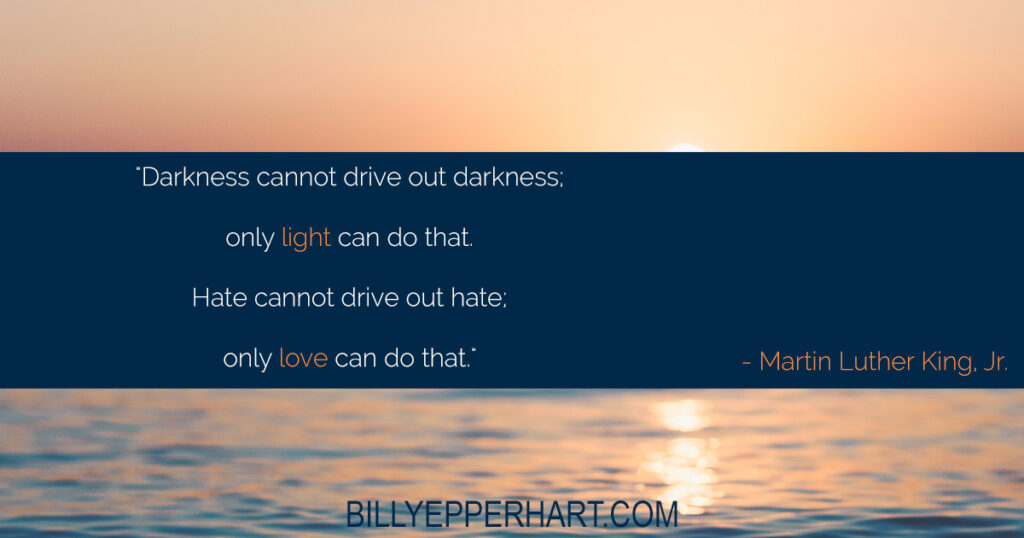 "If a man is called to be a street sweeper, he should sweep streets even as a Michaelangelo painted, or Beethoven composed music or Shakespeare wrote poetry. He should sweep streets so well that all the hosts of heaven and earth will pause to say, 'Here lived a great street sweeper who did his job well.'"
Remember what I just said about a positive attitude? One of the best ways to change the world is to live authentically and, like Jim Elliot said, wherever you are, be all there.
By all means, strive for better things in your future. But give your all to what you're doing now. Not only will you set standards for others, but you will change the quality of the climate where you are in the moment. Your investment in your career and roles will have a positive impact on the earth.
"Never, never be afraid to do what's right, especially if the well-being of a person or animal is at stake. Society's punishments are small compared to the wounds we inflict on our soul when we look the other way."
It's so easy to look away and hide behind the thought that someone else will stand up. Or maybe we think someone else is more equipped. But the reality is that those feelings are common.
If we instead take the call to action and stand up for what's right, then we will absolutely have a positive influence on culture. By saving one person, we contribute to changing how they interact with the next.
So instead of looking the other way, let's be active.
"I have the audacity to believe that peoples everywhere can have three meals a day for their bodies, education and culture of their minds, and dignity, equality, and freedom for their spirits."
This is what Tricord Global is all about. This vision is possible. And because of that, we should boldly be supporting microfinance programs and education – things that will truly change a culture from the ground up. The only way a person can have dignity and three meals a day is if they are able to buy those three meals on their own.
I want to give a hand-up, not only a hand-out. Join me?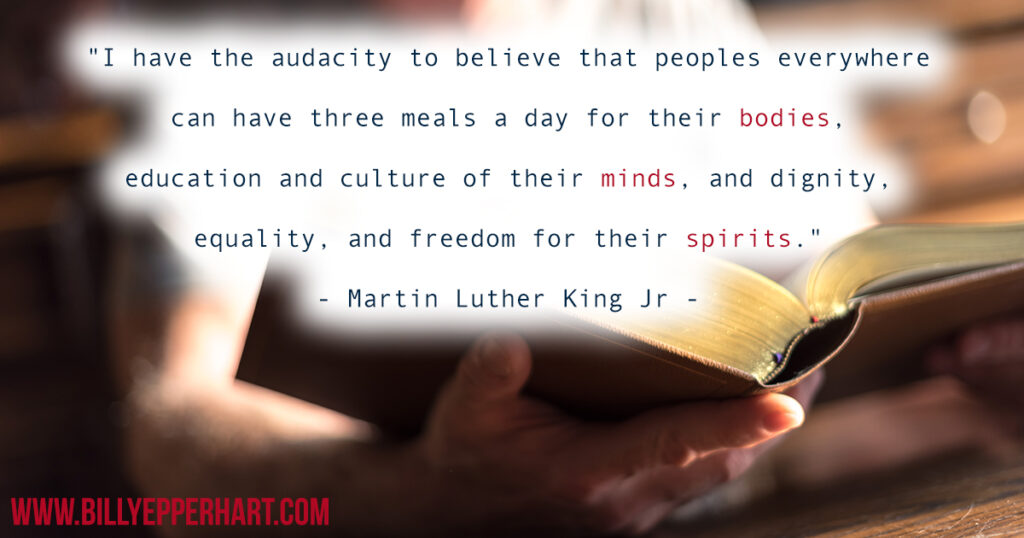 ---
We can scan through this blog post and briefly remember Martin Luther King Jr. Or we can chew on his words and think about how they should impact our time, our giving, our investments, and our energy.
I hope that the world continues to live out these words.