There is little in the world that feels more scary than stepping out on a business limb. Investing in a new business takes time, energy, money, and commitment. Plus, you are never guaranteed success. So, if you are a new real estate investor and you're feeling scared, know that it is completely normal to feel that way.
I love real estate. It's my favorite way to invest and I continue to teach other investors my tips and tricks because I want it to be your favorite way to invest as well. But that means that – eventually – you'll need to leave fear behind, take some risks, and make the jump to get started.
Are you ready to do that? If so, here are four steps I suggest you take to get started as a new real estate investor!
Four Essential Tips for the New Real Estate Investor
1. Identify your reason. 
This might seem too simple. Maybe you would rather me give you some step-by-step instructions for laying out your business plan. You will need to learn about a business plan. But before you do any practical business-building, you must know your reason for getting started.
I once heard it said, "If you have enough reasons, you can do the most incredible things". I believe that.
What gets you out of bed in the morning? Do you want to get rich? Pay for your child to go to college? Give more to your favorite non-profit than you ever thought possible? Identify your reason for starting a real estate investing business. Then, move on the next step.
2. Find a program (or a course) to follow. 
If you're going to be successful, you must follow in the footsteps of someone who has been successful. I've put together a course called "Real Estate Mastery". There are other good educational opportunities out there, as well. Or attend a conference or a seminar series.
No matter what your preferred method of learning, find someone who has done it successfully and follow them.
3. Set goals.  
Now that you know your reason and you have some knowledge about the nuts and bolts, it's time to set specific goals. If you are a new real estate investor and you don't set goals, you are making a mistake. You need some sort of vision for where you are going and what you are trying to achieve. Without goals, you will quickly lose steam – especially because real estate investing is a long game.
So, do you want to fix-and-flip two houses in the next two years? Do you want to obtain five rental properties in the next decade? How about making $100,000 tax free? What about sending all of your children to college based on real estate investment income alone?
Sit down. Grab a sheet of paper. Write down your top three goals. Then, post the paper on your refrigerator and do whatever it takes to achieve those goals.
4. Find your first property. 
Woohoo! You're ready to buy your first property now. With education and goals as your fuel, I believe you will truly be successful. You can also read about coming up with a downpayment here if you need some help with the financial aspect of getting started.
You make money when you buy property, not when you sell it. So, what should you look for in an investment property? Here are a few helpful tips on scoping out your first real estate property.
Don't get emotionally involved. Don't purchase a property because you think it's "cute." Instead, purchase a property to get a return on your investment.
Location, location, location. Check out that area. Is the property in an up-and-coming neighborhood? Are there shops and restaurants in the area? How about a college campus? All of these questions help decide if a property is going to be desirable.
Buy what you can afford. In the perfect world, you would buy a property and have it generating income the following month. But we don't live in a world where that will always happen. In making a purchase, it is a good idea to be good to be able to carry the financial burden without breaking a sweat for 3-5 months.
Get a professional in your corner. Sometimes you just need someone with more experience than you. If there is someone you know who understands more than you do about real estate investing, invite them to look at the properties, give opinions, and ask questions. Sometimes asking the right questions will make or break your success.
---
If you're a new real estate investor, you don't need to be overwhelmed with the details. You can confidently begin your real estate business by acting smart. Identify your reason, get some education, set goals, and be wise when looking for your first property. You can do this. I believe in you!
Also, if you're interested in a FREE library of resources to help you grow as an investor, sign up below. You'll get access to tons of handouts and worksheets that will help you to succeed in the real estate world.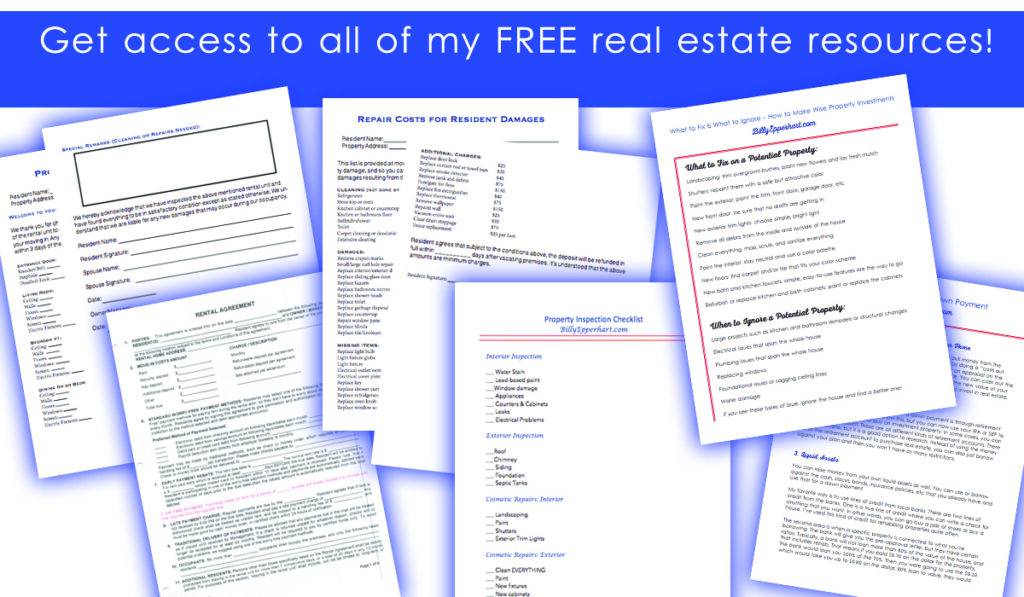 Grab your FREE handouts & worksheets here!