This is Part 2 of a two part series by a guest blogger, Jeff Summers. He shared last week about 10 Steps to Reviewing a Rental Property on Paper. This is the second part of that post. Thanks, Jeff, for sharing!
The house we reviewed in Part 1 looked good on paper, but when I drove by to look at it, the neighbors were very messy, a semi tractor was parked in the neighbors drive, the garage door was beat up and not sealing very well. (Pictures are deceiving. NEVER make an offer off of an MLS listing without going and looking at the property!)
After a property meets all my requirements, and I have driven by and looked at it, I go and do an inside tour. Keep in mind that a total interior paint would be around $3,500-$5,000 depending on the size of the house. I generally remove carpet and put in vinyl plank flooring that looks like wood. No carpet makes me smile! If the tour proves good, then I make an offer. I generally offer $5,000 less than list price if the property doesn't need a lot of work to make it "move-in ready". This will vary from house to house!
As a side note: Currently in the Dallas/Fort Worth market (my market) houses are bringing at least asking price, so there are times you will want to bid asking price to avoid being left out of any further bidding opportunities. Let me give you a personal example: I found a 4-bedroom house that a property management company was getting rid of. They painted the complete interior, put new wood look vinyl planking throughout the house, all new appliances, and new mini-blinds. The house is on a block that is surrounded by older couples who maintain their yards well. It's in a blue collar neighborhood, and two blocks away is rough. They were asking $108,000 for the property. I bid their asking price, and received a reply from my realtor that there were multiple bids, and they needed best and final by the next afternoon. I didn't want to lose this house, as it was move-in ready, as far as I could tell from my preliminary walk through. I bid $118,500 for it, which is more than I expected to win the bid.
But, I did not get the bid.
So a week later, the realtor called my realtor and said the buyer was unable to obtain financing at the price they bid, and asked if I was still interested in it. I was and they accepted my higher bid. So at that point, I called my trusted inspector and set up a time for him and the termite inspector to take a look at the property. (I do both on EVERY property. I do not want to be surprised after the fact on bug infestation or damaged wood!)
After the inspection, I learned the house needed a new roof, new gutters, the electrical pole/service was pulled away from the house and the heater would not come on with the thermostat. So I had my realtor do an addendum and send back to the other realtor stating I wanted all the items replaced and repairs to the electrical and heating issue. I told her that since I was paying a premium for the property, I expected it to be in top shape. They called their insurance company and had the roof replaced, new gutters and repaired the other two issues. I then ordered an appraisal, and the house appraised for $136,500 – which is better than my higher bid. This ol' boy was a happy camper!
I leased the house out a couple weeks after taking ownership of it for $1,370 per month. Cash flow is GREAT on this property, and it made a very nice home for a young single mom with two small children.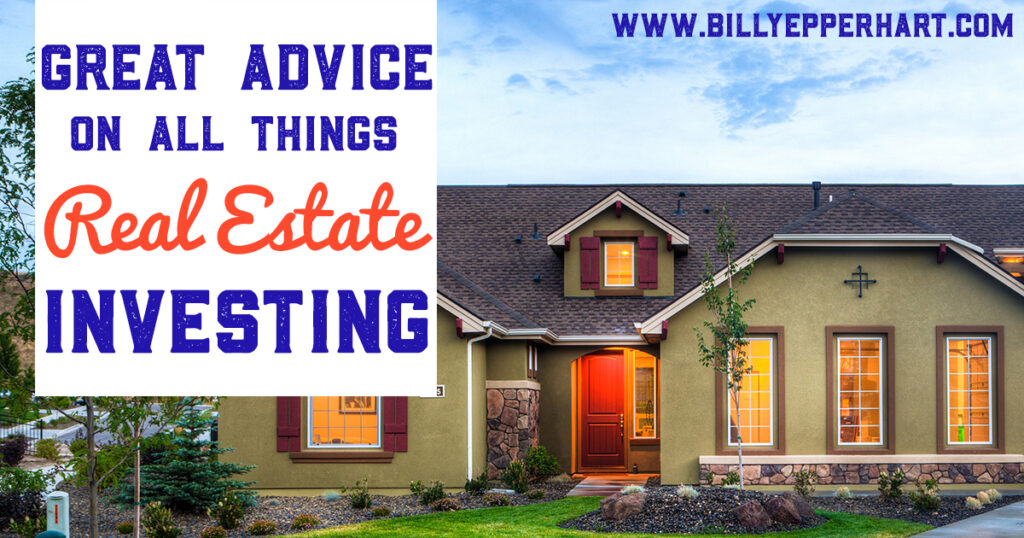 Now I have another tip that is worth the price of the ticket! I have a spreadsheet that I built and use when looking at a property to make sure it has cash flow that I expect, as well as making the 1-1.5% return. Below I have my email address, and if you'd like a copy of it to use for your properties, send me a request and I would be more than happy to share it with you. It saves a lot of time trying to figure out if a property is going to be worth buying or if you're wasting your time!
Yesterday I closed on a 4 bedroom house that came with an above ground swimming pool. I researched my options with leaving the pool versus removing it, and after a quote from my insurance company, it is in my best interest to remove it – immediately! So food for thought – be sure and check similar "liability" items out with your insurance carrier prior to settling for an issue later down the road. Plus, you can sell the pool or other items and gain some cash back!
One of the things that Billy mentions early on in real estate is building a team to help with renovations. I'd like to touch on that a bit. I am blessed with a father that just turned 80 last week, and he still acts like he's in his 60's! He is a great asset to me. He does fences and gates in record time and can remodel anything. He and I do NOT like to paint. He will do it, but it's not our favorite thing, so I acquired a "vendor" book from the local Chamber of Commerce, and they have a great resource list of people who can do most of the items I need, and reasonable too!
If you don't have that luxury, check with your church. There are a lot of people in churches that are handy with repairs, and a lot of them are retired and looking from something to spend their time on. Caution: check references and look at some of their jobs before jumping in with both feet!
One great help for me was a friend who has 10 rental properties. He gave me his flooring guy's number, the roofing guy's number, and the painter he uses. He had several vendors that he trusts, and I began using his crew, as they are sometimes faster at getting in and out than me or my father (they have a whole crew).
After I get the house and get it leased – I do a five year capital improvement projection. What that means – what will this property need for major improvements over the next five years, and what do I think it will cost. I then set back money monthly out of the profits, to offset these expenses, as I know they will be coming due eventually. Example: a large tree is going to have to be cut down and hauled off, a fence is going to have to be replaced, a garage door is going to need to be replaced in a year or so – things that are not routine maintenance. This will help so you are not surprised when something requires some cash!
As for insurance – I suggest you shop, shop, shop. I had my State Farm agent – the one I have had for 25 years, inform me that he couldn't put insurance on a vacant house, only after someone was in it. So I was at a Chamber Luncheon, and mentioned it to a friend, who happened to be a State Farm agent, and she said that was crazy. She wrote the policies on my first 3 properties. The only issue I had was the rental properties had a 3% deductible instead of the normal 1%. That doesn't seem like much, but if all of my properties had a hail storm, and needed new roofs, I would be $20,000 out of pocket for deductibles – THAT's NUTS!!
So I started checking around and found an agent that provides the 1% deductible, on rentals, and I switched over all the policies! Again, shop, shop, shop!
I believe I will end this particular blog now, and maybe do another one in a few months. If you have questions, please feel free to email me: Jeff.Summers@Outlook.com – I will be more than happy to share anything I have learned.
---
Don't forget to email Jeff for his FREE spreadsheet offer. Also, consider signing up as a subscriber! You'll receive access to a free library of resources that will help you as you develop your real estate investing business! Grab access below.