Anticipation of entering into a new year can build excitement; however, we can also expect some change to take place.
We all have goals of where we want to be and how we want to live. It's tempting to think that changing one thing will get us there – that one step forward takes us all the way.
But instead we have to change at each step, and most likely our end goal will take a lot of steps to reach. So whether you're hoping to be a kinder person, get your business to a self-sustaining place or get into the practice of writing daily, the change required is not immediate.
It takes time. It takes investment. And you have to be ready to be stretched at each step.
Change requires a heart that is moldable. Are you ready for change?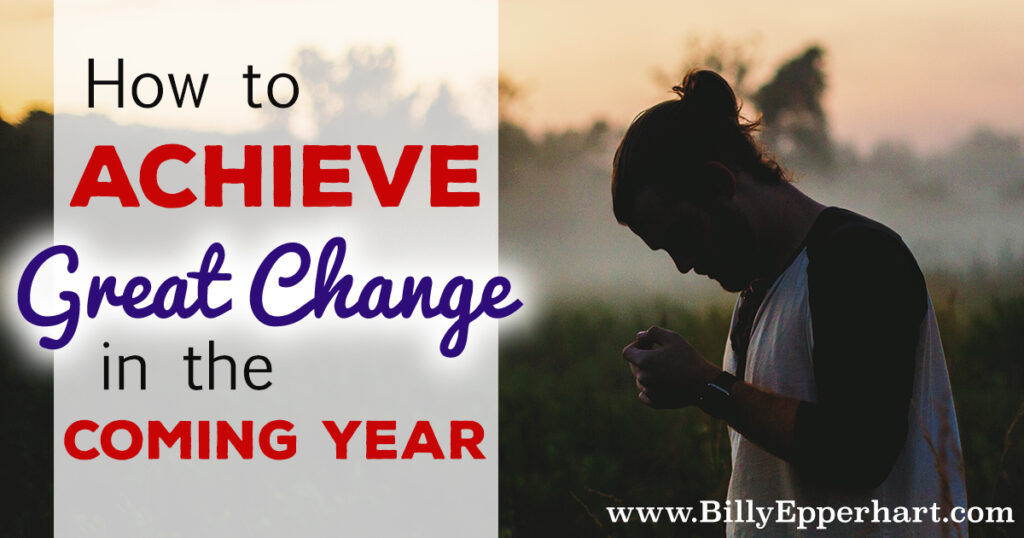 Here are some practical areas that you can prepare as you seek change. This is especially helpful as we approach the New Year!
Area #1: Spiritual Life
This may include prayer, reading and studying the Bible, being honest in the little things, or even working towards discovering God's purpose for your life. Prepare this area of your life for lasting change so that your spirit is stronger!
Area #2: Family Life 
You cannot control how your relatives are, but you can control how you are. As you prepare for a New Year of change and growth, remember this truth.
You can also define positive things you want in your relationships. What do you want to change in your marriage, or as a parent, in the next year?
Area #3: Financial Life
It's essential to come up with a plan for your finances for the next year – and for the next five years, ten years, etc. My book Money Mastery may help you with this, but the key is to just get started.
Maybe you want to change your finances. Maybe you need to learn to save and invest. Maybe you need to focus on creating passive income. Whatever it is, remember that the process will include many small steps on the way to great change!
Area #4: Physical Life
Weight, exercise, diet, and blood pressures are obviously important factors in your life. After all, if your health declines, how will you accomplish any change at all?
Area #5: Social Life
We all need friends. We've been made for community! Maybe you need new friends, or maybe you need to heal broken past friendships. Identify what needs to be changed. This is the first step toward actually making the changes! Your relationships – and your quality of life – will be much improved because you've spent time identifying what needs to change.
---
As we set goals for the coming year, we can also prepare our minds for the changes ahead. It's important to focus on the small steps that will lead us to reach our big goals. 
What small steps do you need to identify and achieve?
One GREAT way to prepare for the coming year is by attending the annual Wealthbuilders Conference in Denver, CO! Tickets are selling quickly, so it's important to grab yours soon! Attending the conference could be a series of small steps on your way to making great change.
Find out more information by clicking HERE. And look below to see who will be speaking this year!