It is always important to do everything in your power to make a wise investment. In this blog post, I highlight practical tips for when and where to buy real estate. They are quick and simple, but I ensure that they will make all the difference as you start or continue on your wealth-building journey.
When to Buy Real Estate
When supply is up— when there are more houses on the market, the prices are flat, or they're dipping some— it's time to start looking for a potential investment property. Remember that if you want to wait a little longer, you'll have to pull the trigger a little quicker.
Typically, demand will start to absorb supply right after supply is at its peak. You can wait for supply to edge down and for demand to pick it up in those cases. When you see that prices are escalating a bit, that's also time to buy. For the wisest, most financially sound investments, always buy when there is more supply than demand.
For buying a flipping, you'll want to wait a little later in the cycle when demand starts absorbing the supply again since you need more time to make renovations and repairs. Start buying and flipping while the demand is increasing, but before new construction for that demand begins. Your newly flipped house will get eaten up by potential buyers!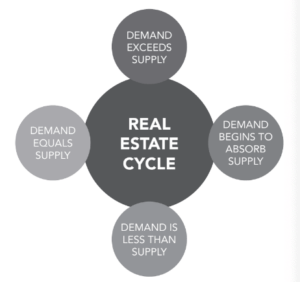 Where to Buy Real Estate
It's important to know the difference between a bad location and a good location to buy and hold real estate. Just because it's a beautiful or trendy area does not necessarily qualify it as a good area for rentals!
Here are a couple of good rules to abide by:
Look for property prices that are NOT more than 2 to 4 times the median income in an area.
Examine the monthly rents. A good monthly rent returns 1-1.5% of the purchase price.
Look for areas that have a trend of diminishing housing supply. Pick a certain date and ask your realtor for the number of listings of the last five years and the price per square foot.
Buy in areas where job growth is taking place, and property taxes are low.
Also, remember not to bypass your low-moderate income neighborhoods. I promise you that 9/10, that's where the best cash flow spread is.
---
For more information on the do's and don'ts of real estate, I highly encourage you to look into our real estate courses at WealthBuilders University. We go into a lot more depth and cover many more topics than you'll find on the blog, and offer monthly interactive Zoom calls! Visit wbuniversity.online or email info@wealthbuilders.org to learn more.